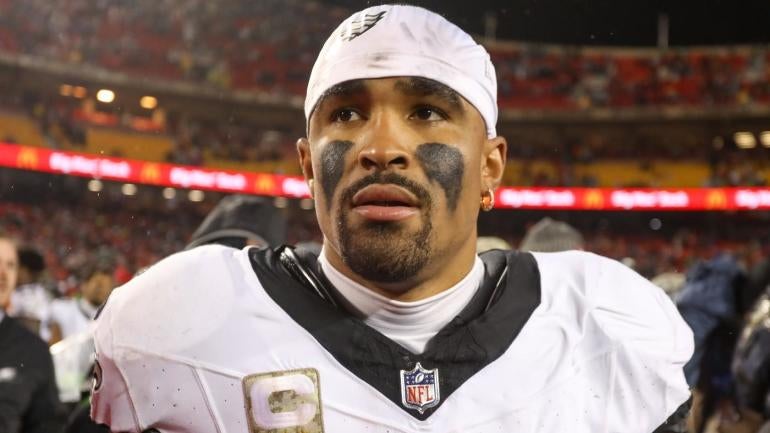 Getty Images
Jalen Hurts led the Philadelphia Eagles to a double-digit comeback victory against the Kansas City Chiefs, setting an NFL record with the win. Hurts has 13 consecutive wins against teams with winning records, breaking a tie with Peyton Manning and Vinny Testaverde for the most in NFL history. 
The victory wasn't secured until the final minute, as Hurts and the Eagles trailed, 17-7, at halftime. Hurts recorded his seventh straight victory when his team trailed by 10-plus points — extending his own record in the process.
Since the stat was first tracked in 1991, Hurts is the only quarterback with five straight victories when his team trails by double digits (streak at seven). Drew Brees, Peyton Manning, Philip Rivers, and Vinny Testaverde each have four straight wins when their team trails by 10-plus points — tied for second on the all-time list. 
Hurts has a .389 win percentage when trailing by 10-plus points, the second-best mark in the Super Bowl era (Patrick Mahomes is first with .560). Hurts is 8-11 when trailing by 10-plus points in his career, having a better win percentage than Tom Brady (.378) and Joe Montana (.370) — third and fourth people on the list. 
What Hurts is accomplishing is unprecedented, as he's 26-2 in his last 28 starts. The Eagled are 9-1 in consecutive seasons for the first time in franchise history as a result.